Superfighters Deluxe Clan

This page doesn't contain information about the game, but a form of organization within Superfighters Deluxe community. For more Superfighters Deluxe community clans, please browse the Clans category.
Overview 
Mask was created in Pre-Alpha 1.0.6, and is one of the oldest clans in Superfighters Deluxe. Mask members are trained in Hand-to-Hand and Melee combat, and most their members are very skilled. Most of the members are able to beat an enemy armed with high-tiered melee weapons by using effective melee methods. The official melee weapon of Mask is the
Katana
.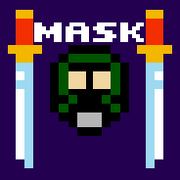 Allies
Enemies
None
Registered Members
Unknown (Leader/Creator)
JAGAN
Von Simon
Firefox
StelarCF
ntburke
Telemonkey
Tushy
Scythe
Furkanhans
Taco Landia Man
Clan Requirements
In order to join Mask, the player must be a skilled melee combatant, and must be familiar with the game. The player must also know how to do all the basic moves, as well as be moderate with a gun. To be recruited, the player must fight Unknown in a One-on-One fight, and will be recruited in one of the tiers. There are 3 tiers, where 1 is the best and 3 is the lowest. If there is hope, a player can join in as a Tier 3, and get better as he plays, climbing the Tiers. It is also a requirement to speak proper english, thought it is not extremely strict.
To increase your tier, you must request a One-on-One melee fight with Unknown. After the fight, he will determine your current tier.
Members of the clan must always wear the (Mask) clan tag.
A unique part of Mask is the Gas Mask. All members must wear a Gas Mask at all times, but the rest is free to be edited. The Mask is there to hide the identity of the members, and to look intimidating to the opponent.
In some cases, if both Lunar Mafia members and Mask members are in the same game, together with a common enemy, you can team up with a Lunar Mafia member to defeat this enemy.